5 Essential Sugar Baby Wardrobe Staples
Every sugar baby out there loves shopping. It's one of the main benefits to finding a sugar daddy. With a sugar daddy of your very own, your wardrobe options will be endless! Here are the top five essential wardrobe items you shouldn't be found without.
#5: A Plain White Tee
A
plain white tee
might seem pretty ordinary and, well… plain, but nothing gets more classic! Every sugar baby looks great in a plain white tee. Whether you go with a deep v-neck to show some cleavage, you choose an almost sheer tee that makes your sugar daddy wish it would start raining, or you throw on your sugar daddy's tee after a morning in bed together, you can't lose! Plus, if you have never felt the difference between a $8 Walmart tee and the $200 tee your sugar daddy can get for you, your mind will be blown!
#4: Dark, Skin-Tight Jeans
There's nothing that makes a butt look better than a skin-tight pair of dark denim jeans. They are sexy, slimming, classic, and just like any good piece of clothing, dark denim skinny jeans can be dressed up or dressed down depending on what you pair them with. Dress them up with heels and a designer shirts. Dress them down with a vintage looking tee and a pair of sneakers. Simply put: they are versatile and they look GOOD.
#3: High Heels
A girl can never have enough shoes! Pumps. Stilettos. Kittens. Sandals. Ankle straps. Wedges. Sling backs. Platforms. Peep toes. Mules. Booties. There are
high heeled shoes
for every and any occasion, whether it be casual, formal, or anything in between. A good pair of heels can run you thousands of dollars, so they are an essential buy once you have a sugar daddy helping out with your purchases.
#2: Lingerie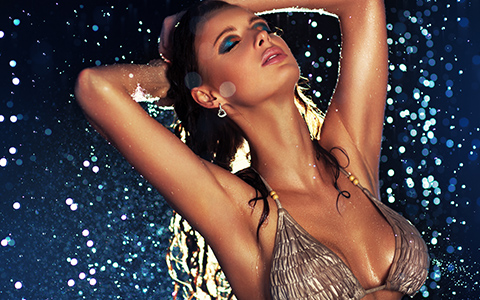 Lingerie
is #1 when it comes to wardrobe staples that will give you confidence like no other. Bras, panties, corsets, teddies, slips, garter belts, thigh highs, bustiers, bodysuits. Lace, silk, cotton, nylon. There is every combination of look and feel when it comes to lingerie, so you can always find pieces that are comfortable and make you look amazing, Plus, you will never meet a sugar daddy who doesn't approve of a large lingerie collection!
#1: A Little Black Dress
Having a
little black dress
in your closet isn't just essential for sugar babies… it's essential for any and every woman, ever! A little black dress is the one piece of clothing that has never gone out of style and will never go out of style. You can dress it up with heels and jewelry. You can dress it down with a denim jacket and a pair of kicks. There is no other wardrobe item that is more versatile than the perfect little black dress.